In this digital age, educational apps have become a game-changer in the world of learning. Gone are the days of monotonous textbooks and rote memorization. With a plethora of captivating apps at our fingertips, education has taken a vibrant and interactive turn. These apps have revolutionized the way we learn, making it fun, immersive, and engaging. Let's delve into the world of educational apps galore, where knowledge knows no bounds.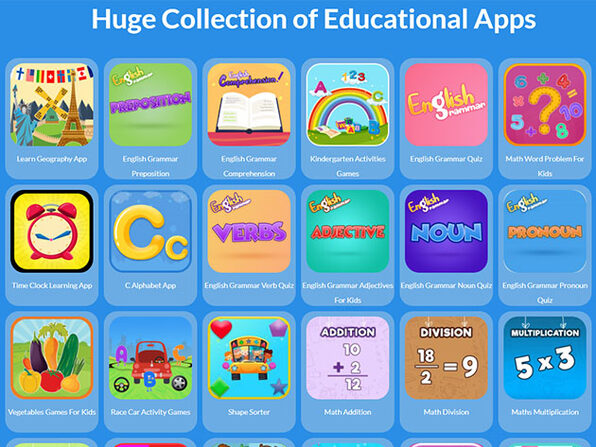 Unleashing the Power of Educational Apps
Education has evolved, and so has the way we teach and learn. Thanks to the power of educational apps, traditional classroom boundaries are being pushed, and the potential for transformative learning experiences is being realized. These apps have opened up a world of possibilities for educators and learners alike. No longer confined to the four walls of a classroom, students can now explore diverse subjects, gain practical skills, and deepen their understanding of complex concepts through interactive apps.
The true beauty of these apps lies in their ability to cater to individual learning styles and preferences. Gone are the days when a one-size-fits-all approach was the norm. Whether you're a visual learner, an auditory learner, or a kinesthetic learner, there's an app out there waiting to ignite your passion for learning. These apps unleash the power of personalization, allowing students to tailor their learning experience to suit their unique needs.
13 Captivating Apps: Revolutionizing Learning
The world of educational apps is vast and ever-expanding. From language learning to science experiments, there's an app for almost every subject under the sun. Let's dive into the captivating apps that are revolutionizing the way we learn:
Duolingo: This language learning app gamifies the process of mastering a new language, making it enjoyable and addictive.
Khan Academy: With a wide range of video lessons and practice exercises, Khan Academy offers a wealth of knowledge across various subjects.
Photomath: Say goodbye to math anxiety with this app that solves complex equations by simply scanning them.
Quizlet: Flashcards are given a digital twist with Quizlet, allowing students to study and test their knowledge on the go.
Tinkercad: Budding engineers and designers can unleash their creativity with this 3D design and modeling app.
Star Walk: Explore the wonders of the universe with this app that turns your smartphone into a virtual planetarium.
Scratch: Young programmers can learn coding through interactive projects and animations using Scratch.
TED-Ed: TED-Ed brings the power of TED talks into the classroom, offering captivating lessons from experts in various fields.
ClassDojo: This app promotes positive classroom culture and communication, allowing teachers, students, and parents to connect and collaborate.
Elevate: Elevate is a brain-training app that helps users enhance their cognitive skills through engaging games and challenges.
Prodigy: Math becomes a magical adventure with Prodigy, an app that combines curriculum-aligned content with immersive gameplay.
Swift Playgrounds: Apple's Swift Playgrounds app introduces aspiring coders to the world of programming through interactive puzzles and challenges.
Kahoot!: Transforming the classroom into a lively game show, Kahoot! allows educators to create quizzes that engage and assess students' knowledge.
Immerse, Engage, and Thrive: Interactive Education at its Finest
Education is no longer confined to the monotonous transmission of information. With educational apps, learning becomes an immersive and engaging experience. These apps allow students to dive deep into subjects, explore at their own pace, and interact with content in meaningful ways. Whether it's through interactive simulations, gamified quizzes, or virtual reality experiences, educational apps bring learning to life.
By harnessing the power of technology, these apps bridge the gap between abstract concepts and real-world applications. Instead of passively consuming information, students become active participants in their own learning journey. They can collaborate with peers, receive immediate feedback, and track their progress in real-time. This hands-on approach not only enhances understanding but also fosters critical thinking, problem-solving, and creativity.
May 14 2023 Author Tiffany Lafleur Guest Author Share Are you looking for ways to cut down on employee training costs while making it more effective and engaging It39s time to get a free educational app These apps feature a wide range of courses and modules that can be tailored to fit your organization39s and workers39 individual training needsSchool Learning Best Educational Apps for Kids Khan Academy is the best educational app for kids of all skill levels By Rebecca Bodenheimer Updated on March 09 2023 Fact checked by Elizabeth Brownfield We independently evaluate all recommended products and services If you click on links we provide we may receive compensation Learn more A comprehensive learntoread system for 2 to 13yearolds covering the five essential components of reading phonics
phonemic awareness vocabulary fluency and comprehension Ability to match children to their perfect learning level so they can progress with selfpaced oneonone lessonsUpdated on July 24 2023 Fact checked by Sean Blackburn We independently evaluate all recommended products and services If you click on links we provide we may receive compensation Learn more The 9 Best Educational Apps of 2023 Best Overall Khan Academy Best for Young Children PBS KIDS Games Best for Kids K8 BrainPOPHow it works DragonBox Numbers iOS Android and Amazon aimed at kids 4 through 8 introduces number sense addition and subtraction through cute characters called Nooms The characters 1 Kahoot Kahoot allows you to use their templates or make your own game or quiz You can choose from a variety of question types
either to test knowledge or to collect opinions You can also customize the time limit the points and answer options You can discover kahoots made by premium partners like Disney and MarvelUsed appropriately tech can be a very handy tool when it comes to learning as long as you keep it fun Here is our list of the top ten educational apps that can help make learning fun Khan Academy and Khan Academy Kids Suitable for use with children of all ages Khan Academy is a fantastic collection of free educations courses Khan Academy Smart phones and tablets are the new way to play Everywhere you look childrenfrom toddlers on upare engrossed in handheld devices But parents neednt see screen time as the enemy
Educational apps have truly revolutionized the way we learn. The days of boring lectures and tedious textbooks are behind us. With these captivating apps, education becomes an adventure filled with excitement, discovery, and endless possibilities. So, embrace the power of educational apps, immerse yourself in interactive learning, and let the joy of knowledge guide your path to success.